Northwestern Administration Temporarily Suspends Community Bonding Activities After "Netflix and Schill" Backlash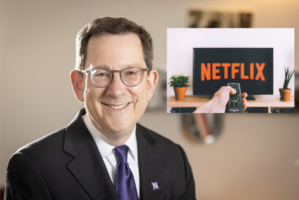 EVANSTON — Northwestern University has announced the cancellation of all upcoming community activities until further notice after launching an ethics investigation into last weekend's "Netflix and Schill" event. The activity, billed as an opportunity for a dozen Northwestern undergraduate student raffle-winners to "watch a movie with [Northwestern University President] Michael Schill in his private home theatre," drew ire from students and faculty alike after the contest winners were allegedly forced to watch the entirety of Emily in Paris.
After arriving at Mr. Schill's Evanston Mansion, twelve students were reportedly guided down a long, dark, damp corridor into a projector room and greeted by Mr. Schill, already several minutes into the pilot episode of Emily in Paris. By the time several students recognized the show in question, it was too late.
"They locked the doors from the outside," claims one Northwestern student who asked to remain anonymous. "We begged him to leave. We pounded on the doors and shouted. But he just kept smiling. He constantly told us to quiet down because 'this episode has a musical number.' We didn't have the heart to tell him that happens every episode."
Students reportedly remained locked inside for fifteen consecutive hours until the series concluded. When the doors eventually opened, and the frightened students ran outside, another anonymous student alleges that Mr. Schill remarked, "see you again for season four!"
The fallout from the disastrous event has sidelined several upcoming cherished Northwestern community events, including Wet Willie, a waterslide fundraiser, Purple Heart, a military recruitment simulation, and Ryan X Ryan, a meet-and-greet with former House Speaker Paul Ryan at Ryan Fieldhouse.