"The statue outside Patten Gym is hot," says area woman whose vibrator has earned a first and last name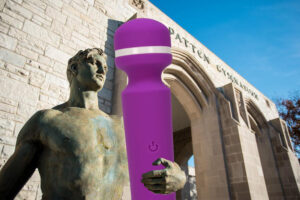 Earlier this evening, Flipside field journalists were investigating a story at the Patten Gymnasium when they overheard a local woman saying, "the statue outside Patten Gym is hot." Upon interviewing this pathetic woman, who asked to remain anonymous, they learned that, incidentally, this woman's vibrator has earned both a first and a last name.
It's not our heavenly mandate here at The Flipside to judge any of our readers who are prone to flicking the bean or playing a game of pocket pool. Let it be known that The Flipside is vocally For-Fapping. But we must draw a line in the sand somewhere. We know that the statue is quite literally rock hard, possesses a chiseled jawline, and embodies the strong silent type, but it cannot replace human connection. Incidentally, neither can an industrial-strength vibrator.
Seasonal depression hit us all hard, and many retreated to the safe embrace of a Rabbit, but some students have taken it too far. Naming a sex toy is a perfectly standard practice that students use in place of making an appointment with a therapist. For example, a bullet vibrator named Buzzy is acceptable, onomatopoetic, and even flirty. However, calling your mall-mounted vibrating dildo F. Scott Clitz-gerald is frankly undignified. Honestly, if your sex toy has lore, it may be time to redownload Bumble.