French Bed Bugs Arrive In Chicago: "C'est Incroyable! Eet Is A Pizza Baked Like A Pie"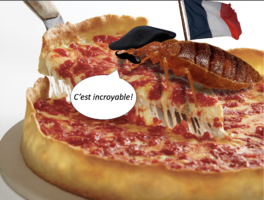 Oh la la! The Paris Fashion Week bed bugs have left behind the City of Lights for the Windy City.
"Eet is tres adorable here in Chicago," said Jean-Claude, a French bed bug who was found in a Wicker Park coffee shop. "I am so grateful to have made it all ze way over here, tucked into a Sandy Liang cardigan sweater."
Multiple reports of bed bugs have surfaced throughout Chicago this week. They've been reported in homes, bars, movie theaters and even Lou Malnati's establishments.
"Zey have the most incroyable food here in Chicago," said Camille, another bed bug found at an AMC. "I thought we had ze best cuisine in ze world. You have seen ze film Ratatouille, non? But here you have ze…how you say…deep dish pizza? Eet is remarkable! How zey bake it like a pie. But eet is a pizza."
The French bed bugs apparently can't get enough of deep-dish pizza. Pepper Roni, a general manager at a Lou's in the Gold Coast, has had several customers call to complain about bed bug infestations after eating at the restaurant.
"It's really a health and safety nightmare," Roni said. "I mean, we have a standard to uphold. This isn't a Sbarro."
"I do not even yearn for ze taste of blood anymore," said Pierre, a bed bug from the Paris suburbs. "Zees Chicagoans have ze Jeppson's Malört in their veins. But ze flavor of ze Malnati's Classic, c'est magnifique!"
While several Lou's have had to shut down for deep cleanings, there haven't been any bed bug reports from any Giordano's.