Health Center Drops New Fun Fall Condom Flavors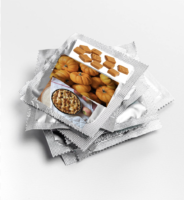 If you've run out of mint and banana condoms from the club fair and haven't made your way to student health yet, get moving immediately! Use them for a little treat during oral sex or intercourse if your dick has taste receptors. We've tried them all, and here's our official ranking:
3rd Place: Caramel
Can be really sticky which makes application difficult. Really hit or miss depending on the mood, lighting, and room temperature. Not ideal for hookups, because if you have a visceral reaction to the taste, it's not gonna look cute.
2nd Place: Pumpkin Spice
Really popular with white girls who own Uggs and infinity scarves. Has a bit of a kick, so small licks are best for beginners. Seeds aren't included, but if used correctly, you should be able to produce some of your own.
1st Place: Apple Pie
Super sweet and sensual, which really motivates the passion for the experience. You can really taste the layers. The coolness of the ice cream, the depth of the dough, and the crunch of the apple incites feelings — sexual ones.
No matter which flavor you use, you're having sex, so you're sinning regardless. Our methods to conduct this study utilized sex dolls, as we are all waiting for marriage.