Cooper Manning Leads New York Giants to 0-5 Start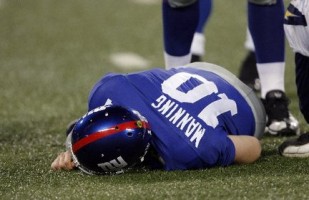 EAST RUTHERFORD, NJ — Only two seasons removed from a Super Bowl victory, the New York Giants have plummeted to the bottom of the NFL, beginning the 2013 season with an 0-5 record.
Many NFL experts have attributed their struggles to Giants head coach Tom Coughlin naming Cooper Manning starting quarterback. The older brother of veteran NFL quarterbacks Peyton and Eli Manning, Cooper was diagnosed with spinal stenosis when he was 18, seemingly ending his athletic career. But more than 20 years later, he has made his return to football as a 39-year-old rookie for the Giants, succeeding his brother Eli.
Given the rust that comes with a two-decade break from athletics, New Yorkers are remaining patient despite the abysmal record and the fact that Manning is seemingly incapable of carrying the team on his shoulders. Though he has no offensive line to speak of and it's more likely that Michael Vick will sign an endorsement deal with the ASPCA than Manning's receivers will catch the ball, New York trusts that he'll turn the season around.
During the press conference following the Giants' week five loss to the Philadelphia Eagles, Coughlin said, "Cooper is giving it his all out there, but it's going to take some time for the team to start gelling under him. After all, he's a 39-year-old rookie who—wait…you're saying that's actually still Eli out there?! Crap. I swear it looked like Cooper to me."