Basketball Coach Chris Collins Inducted into Northwestern Hall of Fame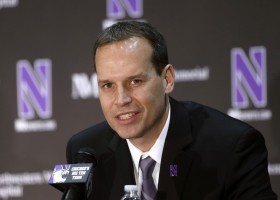 EVANSTON — Saturday was a proud day for the Northwestern Athletic Department as men's basketball head coach Chris Collins was officially inducted into the Northwestern Hall of Fame. Following the team's win over Eastern Illinois University, Collins was hailed as the greatest head coach in Northwestern history and immediately nominated and accepted into the hall's storied annals.
"It's a great day for Wildcats everywhere," announced Northwestern President Morton Schapiro. "It's a new era for Northwestern sports. With Collins at the helm, we're guaranteed to forget all of our disappointment left from the football season. The bar is going up!"
Tears were shed as the hero of the day approached the microphone for a speech. Patricia Telles-Irvin was spotted comforting Pat Fitzgerald, softly purring, "There, there. Who needs the Big Ten? You got Maine and that was good!"
After saying "Thank you" sixty-two times, Coach Collins finally calmed the crowd enough to speak.
"This is a true honor," Collins began. "When we began this season, I just knew it was going to be something special. But it doesn't end here. We have big goals for this season. The basketball will never rest until we have won two games in a row. Our long term goal is to beat a team who eventually makes it into the NCAA tournament."
The ceremony ended with the basketball band playing an especially heartfelt rendition of Lil Bow-Wow's classic hit, "Basketball."