Obit: Local Student Found Dead After Being on Hold with Residential Services About Mold in Bobb for 17 Hours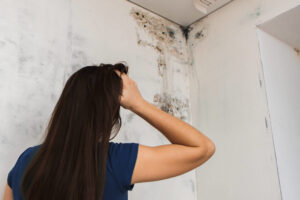 Millie Dew, a freshman Art History major who changed her Weinberg seminar to "Environmental Hazards & You" six minutes after receiving her Bobb housing assignment, met a tragic end last night after being held on the phone with Residential Services for seventeen consecutive hours.
At the time of her death, Millie had been trying to report a dangerous case of infectious spores lining her dorm walls. Ever the creative, she had previously shaped the gunk into a larger-than-life replica of Mike Wazowski as her final project for Intro to Sculpture. Even in her final hours, she continued to work on her newest, a Baby Molda statue.
"It all just happened so slowly," Millie's roommate Grace Lime told a Flipside representative through tears caused by a combination of grief and the black mold in her sinuses. "One hour Millie was dancing to Rez Services' hold music– the classical remake of Bella Thorne's 'TTYLXOX'—and by the time it went to voicemail sixteen hours later, spores were already growing out of her corpse."
Although only a couple of people were able to identify Millie without her mask on, one Bobb freshman and recent Quad Delt pledge said that she "totally would have been bangable if it weren't for those pesky six-feet sex policies nowadays. Even though I'm 6'3", it would have been a little awkward. But I'm 6'3. Did you get that? Six foot three."
Flipside representatives tried to reach out to NU Residential Services for comment on Millie's passing, but several members lost consciousness around hour six on hold. In lieu of flowers, please consider sending Clorox wipes and Febreeze to the Bobb-McCulloch complex.