Johnson & Johnson Releases Brand New "No More Clots" Shampoo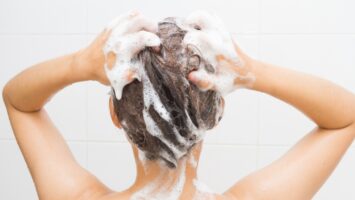 In the past few weeks, Johnson & Johnson has come under fire for the side effects from their COVID-19 vaccine. Blood clots have appeared in six patients and the CDC has recommended that distribution of the vaccine is put on hold. However, very little coverage has been done on J&J's miracle solution: a corollary shampoo product. In response to concerns about serious side effects, Johnson & Johnson released their new "No More Clots" shampoo.
"Are you tired of having shortness of breath, abdominal pain, or severe leg pain that doesn't go away? Well then it may be time to switch shampoos!" the new J&J shampoo commercials say. This new line of shampoo claims to offer the same gentle cleaning and exfoliating properties of regular shampoo, without any of the life-threatening circulatory issues.
In order to test the claims of the shampoo's ad campaign, The Flipside subjected two fledgling Flippies to a product test. The Flippy who used the No More Clot's variant emerged from their shower refreshed, clean, and notably lacking in stroke symptoms, even saying "Man, I feel on top of the world right now!" The second Flippy was unavailable to comment on their condition, as they were preoccupied with chest pain, a shortness of breath, and severe lightheadedness.
This publication recommends that while blood clots are rare in vaccinated – and shampooed people – be sure to do your research, because more often than not, tiny pricks are the most powerful.