NU Marching Band Logs More Rushing Yards Than Football Team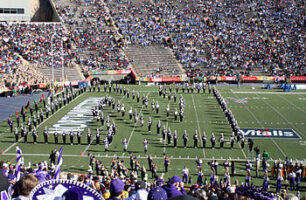 Northwestern is known for being "Chicago's Big Ten Team," but after the last few football match-ups, the name has taken on another meaning as the Wildcats failed to "Move Those Chains" farther than ten yards in any given play. By technicality, the Northwestern University's Marching Band (NUMB) has logged more yards across their halftime performances than all of the football team's measly efforts combined.
On opening game day, Mia Horne, a trumpet player, wore a step tracker that calculated 20,000 steps and close to 900 yards covered throughout her entire performance. When asked about her incredible athletic performance, Horne said "Carrying a small, sad, modern equivalent of Gabriel's horn gives me to motivation to walk until my toe cartilage is worn away."
Meanwhile, a defensive linebacker's step count during the same game was an embarrassing 350 steps and clocked only 4.2000000008 yards. The player wished to remain anonymous, but did tell Flipside that "every single step I took had all of me in it. Those 0.2000000008 yards from the water bench to the towel bench were full of the purplest pride you've ever seen."
It was also reported that the band's formations were more effective at preventing offensive movement than the current defensive line. Following the September 25 game, Ohio University players were reportedly blocked from exiting the stadium due to the mass exodus of marching band performers, leaving them trapped for over three hours.
To mark this achievement in Northwestern sports history, the Ryan family will be providing a generous donation of $500,000 to build a new practice facility for NUMB out of solid marble and engrave the name of every band member into the side of the building to "honor those who served." Additionally, mopeds previously given to football players will be redistributed to the band members according to instrument weight and their proficiency in forming giant letters.