As punishment for botched season, football team must give up Charmin privileges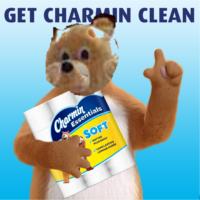 The current football team's habit of unceremonious dumping on the lifetime success of Northwestern University's football program comes with dire consequences. By order of athletic programming staff football players must now take unceremonious dumps – without access to Charmin Ultrasoft.
Prior to the 2021 season, members of the team were given special access to campus resources: mopeds, legal immunity when running over freshmen on said mopeds, non-dry chicken in their private dining hall — and the sweet, oh-so-soft luxury that is Charmin toilet paper. However, after a season that has caused this author to bin her hopes of having a Friday Night Lights love story, the team is no longer worthy of the latter privilege.
"Listen, we really need to motivate our players to haul themselves out of the toilet next season," defensive coordinator Jimmy John told reporters. "Now they have something else out of the toilet to work for—being decent enough at a sport to earn Charmin's soft, gentle kiss."
Naturally, this revocation has incited some pushback from players—more pushback than the offensive line provided all season. Some have drafted a strongly worded note to the administration. Written on the Lincoln athletes' suites new scratchy single-ply, the note came with expressive sad faces and dried drops of players' blood, sweat, and tears splattered on the paper.
Another player, who asked to remain anonymous for safety reasons, explained his perspective: "I'm a glass-half-full kind of person, so I gave all 50% that I had for the game. But the coaches don't see any of that effort, and now they want to rip my ass—which, by the way, is what happened to me when I started using generic brand toilet paper."
Athletic management has decided to reallocate the unused Charmin to Blomquist Recreation Center, which is still offering leaves and the occasional strip of cardboard to lone weightlifters.