From The Prehistoric Archives: OOGA OOGA ROAR The Existence Of A Capitalist State Relies Fundamentally On The Exploitation Of Those Who Participate But Are Not Allowed To Excel In The System Governing Their Lives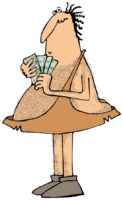 (translated from a little cave drawing of a little guy and such)
IT IS THE FIRST YEAR
YEAR FIRST YEAR
OOOOOOOOOOOOOOOOOOOOOOOOOOOOOOO ROAR
DINOSAUR GO
One must question the system I expect we shall soon find ourselves operating beneath — a system in which the oligarchs of society, those wealthy with riches, connections, and power, control the upper echelon of civilization, outside of the laws binding those beneath them. We shall call this system capitalism: for capital is king, and average citizens its denizens.
The existence of a capitalist state relies fundamentally on the exploitation of those who participate but are not allowed to excel in the system governing their lives. These participants shall not be the oligarchs, but the humble workers, whose fruits of their labor are reaped and raptured from their hands before they can so much as taste the sweet juice produced.
I leave this message for the future generations, who are undoubtedly worrisome about the state of their society under such a cruel, unforgiving system. Let the message be this: fear not, for change is yet to come. The tenets which we, your ancestors, live our lives by are weak, fickle things, focused on the thrill of a hunt and the ecstasy of a lay. But you may revel in how sophisticated your world must be, assuredly full of fine art and finer food, soft clothes and feathers on which to lay. Though your labor is undervalued and obfuscated from the worker who produces it — no starvation, and no poverty!
Read my words and rejoice! The changes that have improved us have created you. Now be the change that future generations will sing your praises for.
YEAR YEAR TIME IS TIME IS TIME
BIG BIRD DINOSAUR FLY SCREECH TAKE FOOD
SPARK SPARK SPARK
HEAT SO HOT COOK FOOD
CALL FIRE