Breaking: Leaked Pictures Reveal New "Ryan Field" To Be Hunger Games Style Arena Where One Lucky Student On The Waitlist Will "Earn Their Spot"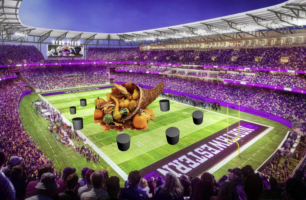 In response to Northwestern's historically low acceptance rate this year, the administration has taken drastic measures regarding how they will hand out the coveted, and now very minimal, class of 2026 spots to those on the waitlist. The idea for a hunger games style competition came to President Schill while he was scrolling through Peta Mellark thirst trap edits on TikTok. Since then, he has been trying hard to keep the secret plan behind the new "Ryan Field" construction under wraps, but leaked pictures are bringing Schill's true intentions to light.
As seen in the pictures, the setup of Ryan Field holds an uncanny resemblance to the hunger games arena. The cornucopia, filled with everything a prospective Northwestern student needs to survive (aka hundreds of thousands of lactaid tablets), is situated in the direct center of the field, with all the launching pods in a surrounding circle.
Additionally, a prototype for a sponsorship website that allows parents to donate large sums of money to give their child an edge with weapons and tools was discovered.
In response to the leaked photos, President Schill promised that the school is not planning on holding any sort of fight-to-the-death competition. But students have become increasingly suspicious as he has recently been spotted wearing high-neck suits with white roses on the lapels and demanding that his colleagues call him "President Snow." As of right now, no further information has come to light regarding if/when a "Waitlist Hunger Games" will occur. All we can hope for is that no one like Gale wins, because the last thing Northwestern needs is another insufferable, condescending man who thinks friend-zoning is worse than bombing innocent children.