DJ Commando Dies Following Sexual Big Bird Tweets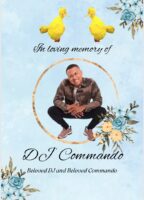 This past Saturday, the Northwestern community along with the whole world gathered to mourn the loss of one of the most important and beloved individuals on campus – DJ Commando.  Mr. Commando was tragically killed in a crowd crush accident on October 6th, when a horde of fans rushed his kiwi booth at a local farmer's market in an attempt to get an autograph.  "I guess he was just too popular for his own good," fan Panta Lones said after the incident.  "They do say that fame kills.  I think."
The tragedy occurred in the wake of a series of controversial statements from Mr. Commando on the social media platform "X" regarding Big Bird of the popular children's program "Sesame Street."  Commando expressed a deep-seeded sexual attraction to the anthropomorphic avian that did not resonate with his younger audiences.
Commando's camp, however, did what they could to keep their star out of controversy.  "It's about separating the art from the artist," a spokesperson for Commando commented last week.  "DJ Commando is more than a man, it's a brand.  That brand is steadfast no matter how the artist himself feels about Big Bird."
Fans, however, were disturbed.  When approached for comment, Commando's self-proclaimed biggest fan Corbin Diaz told us that "Big Bird was an integral part of my childhood, and to hear that my favorite artist had been … I can't even say it.  I'm just sad he's gone, okay?"
Aren't we all?  Controversy aside, great artists leave a permanent mark on the landscape of music.  One day, everyone will forget about the Big Birdussy.  We can never forget about one of the greatest musicians to ever walk the Earth.  Commando's funeral is scheduled for this coming Thursday, and he is to be laid to rest at the Under Where Cemetary.  Under where?  Underwear?  He certainly never had any.  And we loved him just the same.  Rest in peace.