Fitz Bribes Penn State Coach to Ensure Homecoming Win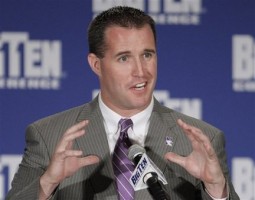 EVANSTON—After enduring four grueling consecutive losses, Northwestern students and fans everywhere are finding it difficult to keep their spirits up. However, it was recently discovered that head coach Pat Fitzgerald has offered head coach of Penn State University Joe Paterno an irresistible bribe to secure a win this coming Saturday for the homecoming game.
"I offered him season tickets to see us 'Cats play next year. I figured it was an experience he couldn't otherwise get and one that most football fans would die for. Of course, he accepted my offer and promised us a W on Saturday," Fitz told an undercover field reporter when asked about the alleged bribe.
Upon discovering this backhanded transaction, most Northwestern students felt relieved to know their head coach cared enough about them to try to make the football games less of a letdown than in previous weeks. WCAS junior Jeff Baker stated, "I think his idea of bribing the Penn State coach was much more effective than lengthening practice time for the football team. Why waste valuable time bettering the team when a simple bribe will do the trick?"
Despite the overall positive feedback, Northwestern freshmen were noticeably less than pleased with Fitz. SESP freshman Macy Combs said, "I just don't understand why we would even worry about losing during homecoming week. In high school we always won that game; obviously in college the same thing will happen."
This Saturday's game versus Penn State will most likely find many fans eagerly awaiting what may be the last win they will ever see secured by the NU football team. The freshmen, despite their anger at Fitz's bribery, will undoubtedly show their trademark school spirit at football games, hesitantly mumbling the fight song and jingling their keys just a few seconds too late.