NU and Ohio State Fans Bond Pregame with Indy Favorite, Meth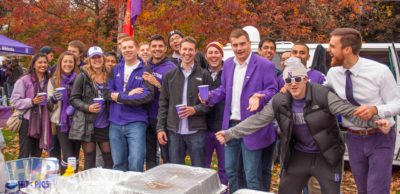 The bitter rivalry between Northwestern and Ohio State fans sparked by the Big Ten Championship Game this Saturday came to a surprisingly peaceful conclusion at a local tailgate with the help of a Hoosier classic.
When Northwestern football fan, Bill Werner, initially crashed the tailgate, it appeared relatively ordinary. "I wandered into a backyard and started eating the nearest hot dog," said Werner. "Next thing I knew, the meth pipe was in my hand."
"The Northwestern fans started out chanting names at us, but gradually they became really friendly, dancing and offering to kill the giant spiders crawling on us. Honestly, I didn't notice any spiders, but it was a nice gesture," said Ohio State fan, Sheila Colburn.
While most of the tailgate attendees did not make it to the game, citing their sudden obligations to "reorganize their garage" or "build a motorcycle from that leftover macaroni sitting in the fridge", those interviewed expressed their gratitude to the generous Indianapolis residents responsible for the tailgate.
"We really just wanted to give both teams' fans a chance to bond over our love of football and share our state's signature export with them," said Indiana resident, Pamela Smith.
Passion for victory runs deep in these dedicated fans but ultimately, the tailgate fostered community among the rival supporters. "I was prepared to jingle my keys at Ohio State fans but after examining the same patch of grass with them for a few hours, I have slightly more respect for them," said Werner.