Kobe Bryant Unlocks NBA's Chastity Belt; Stern Says Put a Ring on It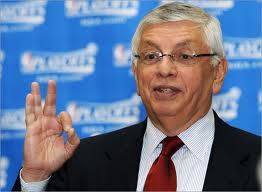 LOS ANGELES – While on an archaeological dig in Turkey, Kobe Bryant discovered the key to David Stern's chastity belt. "Now that we have this key at our disposal, the lockout seems like a joke," said Los Angeles Laker Derek Fisher. "All we have to do now is find Stern's keyhole, and we can mount better negotiations."
Stern is still standing firmly erect with the owners on the lockout issue as of now. "Look, I understand Mr. Bryant has discovered some sort of key, but I'm not biting just yet," said Stern through mouthfuls of gold-encrusted caviar flakes. "If the lockout belt is going to be unlatched, Mr. Bryant will need to bring something else to the table in these negotiations. We need to stop with the prenuptials and get this relationship back on track. Put a ring on this finger." Beyonce Knowles refused to comment, despite having recorded the best video of all time on the subject.
Having made an impulse purchase of a dozen diamond rings in 2003, after meeting a 19-year old pawn dealer in Eagle County, Colorado, Bryant was well prepared for this response. "I kind of expected this reaction, but I'm not sweating. The Black Mamba always finds a way to slither into the underbrush."
Other NBA players are not quite sold on the new negotiation tactic, now being referred to by Metta World Peace (née Ron Artest, really) as "Please the White Man."
Recently, humility advocate LeBron James met with NFL Commissioner Roger Goodell, to discuss the possibility of playing an entirely new sport. "I think I'm taking my talents to South Wales," stated the athlete. Sandy Brown, general manager of the South Wales Fencing team, was thrilled to hear the new announcement. "We couldn't be more excited to have to Tiger Woods come play for us."
The following afternoon, paparazzi captured an image of Delonte West passionately embracing Kutilda Woods, Tiger's proud mother.
While no final solution has been reached between the two bickering parties, ESPN NBA Analyst Jhadi White made a poignant point about the state of the basketball union: "It's like the Civil War. Bryant plowed the fields of ole' David E. Lee's untamed turf. But we don't have a Dominatrix Court House situation yet."