Northwestern PHA Establishes Kappa Moderna & Moderna Moderna Moderna Chapters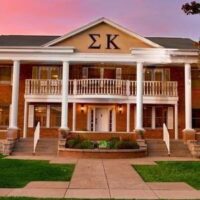 EVANSTON—The Northwestern Panhellenic Association (PHA) has recently established two new sororities on campus to compensate for what we can only assume is a huge loss in revenue during these Unprecedented Times™. Starting in Fall 2021, female-identifying students at Northwestern will be able to join Kappa Moderna (KM), Moderna Moderna Moderna (Tri Mod), along with PHA's eleven existing sororities.
The basement of the Health Professions Advising office has since been renovated to house the new Kappa Moderna chapter, and the new Moderna Moderna Moderna house can supposedly be found somewhere in Tech. (You will get lost trying to find it, but that's part of the fun!)
PHA wants to clarify that these sororities are not just for pre-meds or engineers. In fact, Maxine Vaccine, president of Kappa Moderna, claims that her sorority is the friendliest and most welcoming of them all. "We're just looking for authentic, like-minded, fun-loving girls! Have a crush on Dr. Fauci? Come watch some of his press conferences with us! In accordance with CDC guidelines, absolutely no masks will be allowed during our fraternity mixers, and only girls who have not yet been vaccinated will be considered."
Phoebe Pfizer, president of Moderna Moderna Moderna, claims that her sorority is even better than KM because of their inclusivity. "As long as you're marginally interested in reforming Greek life and promoting Black Lives Matter and Stop AAPI Hate on your Instagram, you're golden! We can't wait to host huge events with our new social distancing policy of six inches. Get ready to meet your sisters, wear your letters, and brag about how popular you are!"
PHA's continuous open bidding process will continue throughout the summer and into the fall. Any lucky girl who pledges Kappa Moderna or Moderna Moderna Moderna will receive their bid via used vaccine needle.