From The Archives: Railroads Hate Them! With This ONE-WEIRD TRICK The Donner Family CUT Their Traveling Expenses in HALF!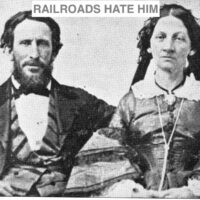 During a family trip, George Donner Saved HUNDREDS of DOLLARS and Lost HUNDREDS of POUNDS at THE SAME TIME! His savvy entrepreneurship made him the BANE of the Union Pacific Railroad!
How? He used the DONNER METHOD! The DONNER METHOD is a new type of intermittent fasting refined deep in the SIERRA NEVADA MOUNTAINS! Perfectly suited for ill-prepared travelers, with the DONNER METHOD you can cut food costs by HALF and DOUBLE your protein intake at THE SAME TIME!
And YOU can start the DONNER METHOD at home FOR FREE with NO EXTRA COSTS with THESE FIVE STEPS!
Step 1. Gather 82 of your closest friends, family, and neighbors for a six-month expedition to California.
Step 2. Leave in late spring and arrive in the mountains by winter to ensure maximum potential for starvation.
Step 3. As heavy snowfall saps the resources of the wagon train and the 82 members of the party slowly succumb to fatigue, hide spare resources and push forward knowing that only sinners die on the Oregon Trail. Assess your party members and start drawing up the menu.
Step 4. Eat.
*Add salt if desired for an extra zip of flavor!
Step 5. Arrive in California with a shaken sense of morality and a new respect for a plant-based diet.
Try out the DONNER METHOD on your next FAMILY VACATION to save TIME, MONEY, and TAKE REVENGE on those who have wronged you.