Inclusivity Win! To Welcome in the Holiday Season, Michael Schill Googles Kwanzaa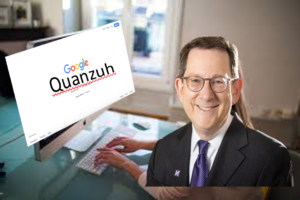 Now that your roommate has finally returned home from his Halloweekend bender at U of I, it's time to get ready for the holidays. Reports say that Northwestern's administration is well-aware of the impending season and is "itching to finally get some good press for the first time since we filled in that lake."
Exclusive reports from within the offices of the Michael Schill, famed cheese lover and pet sniffer, indicate that the institution would like to expand the festivities further than they ever have before. Schill's search history from his personal computer reveals that at 12:03 AM on 11/9/23, the term "Quanzuh" was entered into the Google search engine. This was promptly followed by "Quanza," "Kuanzuh," "Kwanzuh," and eventually, "Kwanzaa."
The next minute and 12 seconds were spent watching a PBS Kids video on the holiday. Schill then abruptly continued his normally scheduled binge of Youtube cringe compilations and refreshing his own Wikipedia page as if he were expecting an update at any second.
Beyond Schill, diversity and inclusion appear to be at the forefront of this year's festivities, with The Office of Student Life hoping to highlight some more winter holidays on the periphery of midwestern culture, stating, "This year, in addition to Christmas lights being stuffed in every imaginable crevice of Kresge, Sargent Dining Hall will be offering chocolate coins and those peculiar plastic spinning tops to students wearing silly little round hats."
So this winter, whether you're celebrating Hanukkah, Kwanzaa, or the Winter Solstice, all of us at Flipside would like to wish you all a very merry Christmas.